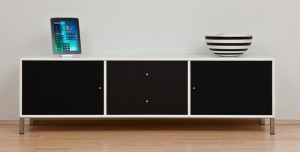 Folkene hos Lydspecialisten i Nørregade er præcis det, som forretningens navn fortæller: Specialister i lyd. Der skal ikke mere end små 15 sekunder til, før du er overbevist. Godt placeret i sofaen i et af forretningens demorum kan du bare læne dig tilbage og lade en flod af vellyd skylle ind i dine øregange. Aldrig har Joe Cocker lydt så godt. Med en dynamik og en bred, bred klang som fylder hele rummet ud.
– Det er altså et nummer der er 20-25 år gammelt, siger Thomas Mørk med en vis stolthed i stemmen og skruer ned for musikken.
– At sætte et anlæg op til at yde sit allerbedste er ligesom at spænde en formel 1-racer op til løb. Alt har betydning for det endelige resultat. Det starter helt ude ved strømstikket og ender ved højttalerne. Anlæg, stik, kable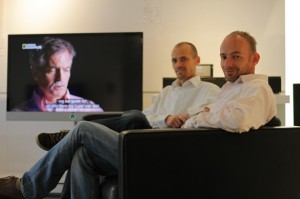 r. Det hele. Alene det her anlæg har kabler for over 100.000 kroner.
Mindre kan også gøre det; Thomas fremhæver det bare som eksempel. Drejer han højttaleren bare 15 cm, forringer han lydbilledet. Men han ved præcis hvad han gør, og hvordan man får ethvert anlæg til at yde sit allerbedste.
20 års erfaring med kvalitet
Lydspecialisten i Nørregade har serviceret kundernes øregange i mere end tyve år. Nøgleordet har gennem alle årene været en kompromisløs holdning til kvalitet og vellyd. Hvad enten det drejer som små eller store systemer. Til private, butikker, cafeer og restauranter. Eller AV-løsninger til erhvervslivet.
– Vi har været med hele vejen fra 2-vejs stereo HI-FI til digital surroundlyd. Hele tiden med den holdning, at vi kan lave den bedste lyd for vores kunder. Det er bevisligt, at for eksempel en restaurant kan øge sin indtjening med bedre lyd, siger Thomas.
En trend i tiden er skjulte anlæg med indbyggede højttalere i vægge og loft. Jo flere enheder, jo bedre og mere afbalanceret lyd kan man lave i et rum. Så man som lytter nærmest svømmer i musik. Men ellers er der to fremherskende tendenser blandt Lydspecialistens privatkunder, fortæller en anden af forretningens medarbejdere, Thomas Ditlev.
– Den store 2-kanals stereolyd baseret på vinylplader er stærkt på vej tilbage. Vi sælger 2-3 pladespillere om ugen, vel at mærke til priser fra 5-10.000 kroner. Og det er både ældre kunder, der har genopdaget deres pladesamling, og helt unge der har fundet deres forældres plader. Desuden kan man få næsten alt på vinylplader igen.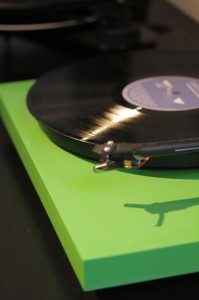 – Den anden retning er anlæg til streaming af musik. Der findes rigtig meget juks på markedet, men vi har som altid valgt komponenter af højeste kvalitet. Vi kan lave rigtig god lyd med de løsninger vi tilbyder, fortæller de to gange Thomas.
Principielt skærer man noget af kvaliteten væk, når man digitaliserer lyd. Der er et lille frekvenstab ved CD'er og et lidt større igen ved de forskellige streamingformater. Derfor er det så vigtigt, at anlægget er optimeret, så man får mest muligt ud af det lydmateriale, man har til rådighed.
– CDer kører 18-bits lyd og de allerbedste streamingformater har 16 bit. Vi har anlæg, der er forberedt til de kommende digitale high-definition lydformater på 24 bit. Det svarer til den digitale lyd som produceren har på sit masterbånd. Så bliver det ikke bedre. Det er her i løbet af et par år.
Alt skal spille sammen … og gemmes væk
Der er generelt flere muligheder for at sammensætte lyd og billede end nogensinde før. Kilderne spænder lige fra analoge vinylplader til en verden af digitale 'sorte boxe'. Spillekonsoller, satellitmodtagere, tv-boxe, computere og medieservere. Fladskærme, lydanlæg, højttalere suppleres af iPads og mobiltelefoner, der i sig selv er små lydanlæg. Og forbrugerne vil gerne have det hele til at spille sammen. Og det meste af det gemt væk.
– Det er det overblik, vi har. Vi kan skabe den store sammenhæng mellem alle enhederne, noget som man som almindelig forbruger måske kan have svært ved at overskue. Men vi laver også mange totalløsninger for både private og erhverv. Vi er ofte med helt fra starten, når folk bygger nyt hus. Jo før i processen, jo bedre.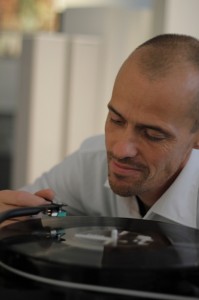 Prikken over i'et er de funktionelle møbler til anlæggene. Bygget i typisk nordisk stil, med rene linier og store lakerede flader, men modsat mange reolsystemer, er møblerne fra Lydspecialistens leverandører både bygget og dimensioneret til elektronik, kabler og anlæg.
– Vi kan virkelig skabe løsninger, hvor man som bruger kun skal koncentrere sig om det væsentlige: Nemlig at høre lyden og se billederne. I højest mulige kvalitet, siger Thomas Mørk.